Tango Secrets
contribution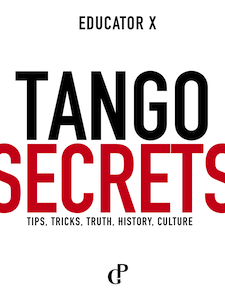 about the book
"Tango Secrets. Tips, Tricks, Truth, History, Culture" by Educator X is the first multimedia book in tango culture's history and a vital new innovative tool for the multi-billion dance industry.
Tango Secrets is essential and practical. written in a vibrant, simple language it is composed to fill the need for knowledge and motivate further study of tango culture and dance in general. assisted by glossary, graphics, images, audio, videos, and links that cover a variety of subjects it works as reference book or quick guide, that helps you jump directly to the answer of your question or to the fact of your interest.
Tango Secrets was realized by the contributions of 40 worldwide tango maestros and 100 social tango dancers. so it is created by dance people for dance people and beyond. it conveys more than 15 years of worldwide experience as social dancers, educators, performers, and researchers in tango culture.
Tango Secrets goes far beyond simple cold tips or philosophical theories on dance and tango. we only embrace real educational knowledge from real people that talk to the hearts, minds, and souls of the vast majority.
the book is available at Apple's iBooks Store and starting 2021 will be published in print at Amazon.
category: dance, performing arts, general
author: Educator X
updated: september 2020 (25.000 words, f.a.s.)
published: 2nd edition, september 1, 2020 (25.000 words) / 1st edition, february 12, 2013 (19.000 words)
publisher: Pablito Greco COMPANY TYPE
print length: 260 pages
target: paperback, iOS, Android, macOS, Windows, Kindle
language: english
your contribution
upload your files and send your information to be part of Tango Secrets
✓ thank you for your info! we will contact you shortly.